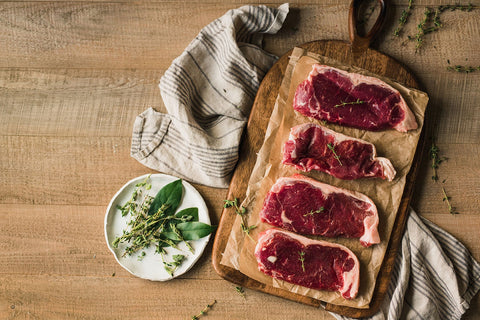 Brahman Country Beef
New York Strips Gift Box
$80.00
$86.00
you save $6.00
Looking for a gift that will give that luxury steakhouse flavor without having to go a steakhouse? This is why our New York strip gift box was curated! Our New York strip steaks are dripping with favor. These steaks are perfectly marbled to melt in your mouth. These steaks are hand cut from the short loin, a muscle that does very little to no work. New York strips fall perfectly between the ribeye and the filet in terms of tenderness and flavor, and when your steaks are as tender and flavorful as ours, you really cannot go wrong here! This is the perfect gift for that steak lover on your holiday list!
Brahman beef, aged for 14 days for optimal flavor and tenderness
Frozen and individually wrapped in cryovac packaging for convenience and safety
Grain finished with good marbling to add flavor and juiciness
Hand cut
Please note that orders picked up will be packaged in a gift box but orders that ship will be shipped in a cooler.