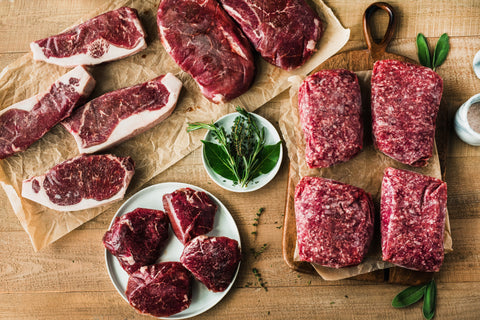 Brahman Country Beef
Family Gift Box #2
$175.00
$242.00
you save $67.00
Indulge in the ultimate culinary experience with Family Gift Box #2, our premier offering designed to elevate your family's dining moments. Crafted with love and care, this gourmet selection of Texas Brahman beef is the key to creating wholesome, home-cooked meals that will leave your loved ones craving for more.

Inside Family Gift Box #2, you'll discover a treasure trove of flavor:


4 Pounds of Ground Beef (in 1 Pound Packages): Versatile and lean, our ground beef is the foundation for countless delicious recipes. Whether you're preparing old-fashioned burgers, sizzling tacos, or juicy meatballs, this premium ground beef delivers unmatched flavor and quality in every bite.
4 New York Strip Steaks: For those who appreciate a bold, well-marbled steak, our New York Strip Steaks are a true delight. With a perfect balance of tenderness and robust flavor, they are the epitome of a classic steakhouse experience, right in your own home.
4 Filet Mignons: Experience the epitome of steak luxury with our Filet Mignons. Known for their unparalleled tenderness and buttery texture, these steaks are a testament to the art of fine dining. Perfect for special occasions or whenever you desire a truly exquisite meal.
2 Sirloin Steaks: Our Sirloin Steaks, with their rich, beefy flavor and leaner profile, are perfect for the health-conscious foodie. Whether you're grilling, broiling, or pan-searing, these steaks are a versatile addition to your culinary repertoire.

Family Gift Box #2 is not just a gift; it's an invitation to create unforgettable moments around the dinner table. It's the perfect option for families looking to stock up on high-quality beef while saving on costs. Each cut is carefully sourced and handpicked to ensure the utmost flavor and tenderness, delivering an authentic taste of Texas to your home.