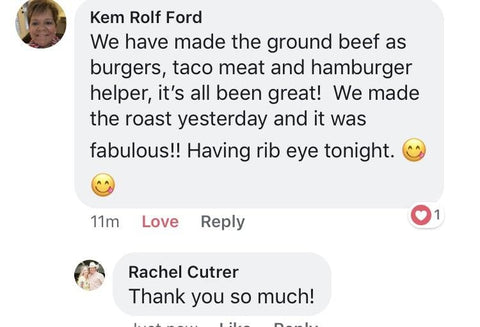 Brahman Country Beef
Ground Beef Bag - 10 pounds of Ground Beef
$54.00
$80.00
you save $26.00
The ground beef everyone is raving about! Buy in bulk and save! Regularly priced at $6 per pound. 

Moooove stuff out of your freezer and make some room, you can now buy our famous ground beef in bulk! Ground from our own grass-fed brahman steers, this is the perfect start for any recipe. Our ground beef is unique because it packs a rich steak flavor, the trimmings that have been aged for 14 days are ground up resulting in a juicy and bursting with flavor ground beef. Our ground beef is an 80/20 mix. This makes it perfect for juicy burgers on the grill, grandma's famous meatloaf, or tacos on Taco Tuesday! The possibilities are endless.

-10, 1 pound packages of ground beef. Note, these individual packages average 1 pound but may vary from .90 to 1.25. We sell by the package so the final weights may vary slightly. 
-Brahman beef, aged 14 days for extra tenderness
-Grain finished with good marbling to add flavor and juiciness
-Frozen and individually packaged 1 pound packages for convenience and safety
-Hand cut
-You receive a reusable canvas shopping bag when you purchase


Some Images courtesy of Beef. It's What's for Dinner.